Echoes of Glendale '73 (Performance 1 of 3)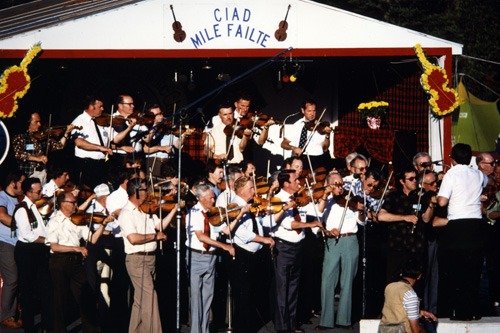 DATE:

June 30, 2023

TIME:

8:00 pm - 10:00 pm

PRICE:

$30 | All Ages | Reserved Seating

VENUE:

ADDRESS:

11156 Nova Scotia Trunk 19, Mabou, Nova Scotia

TICKETS:
KitchenFest! proudly presents Echoes of Glendale '73. A commemorative production to honour the 50th anniversary of the historic Glendale concert. Written and directed by Brenda MacLennan-Dunphy It was at this time, 50 years ago that a historic movement was brewing. Inspired by indignation following the documentary "The Vanishing Cape Breton Fiddler" which aired on CBC television in 1972, a group of culturally-concerned music supporters took it upon themselves to make a response statement. They combed the hills and glens of Cape Breton, rounding up 100 fiddlers to perform at the next annual Glendale festival to prove fiddling was still very much a part of the island's culture. It would all become a catalyst of action, spurring on initiatives like the birth of the Cape Breton Fiddlers Association, and organized change in community. As part of celebrations surrounding KitchenFest! 2023, a commissioned performance has been created by playwright Brenda MacLennan-Dunphy and will feature a host of musicians honouring those there in 1973. Starring Lawrence Cameron as Fr. John Angus Rankin & Joey Beaton Dale Gillis as Fr. Eugene Morris & Willie Fraser Adam MacNeil as Frankie MacInnis Dougald MacNeil as Archie Neil Chisholm Doug Lamey as Alex Francis MacKay Rodney MacDonald as Donald Angus Beaton Andrea Beaton as Theresa MacLellan & Elizabeth Beaton Joe MacMaster as Buddy MacMaster & "Sandy" Sarah MacInnis as Marie MacLellan & "Mary Jessie" Hannah Krebs as Margaret Dunn & "Anna" Bradley Murphy as Kinnon Beaton & "Dougie" John Pellerin as Donnie Dougald MacDonald & "Johnny" Susan MacLean as Maybelle Chisholm & Betty Lou MacMaster Jacqueline Boyd as Margaret Chisholm Steve Luxton as "Richard" Supported by the West Side Performing Arts Cooperative and the Municipality of the County of Inverness. Glendale, First Fiddlers' Festival, 1973. Photograph by Marc Gallant for UCCB Press. 97-650-28498. Beaton Institute, Cape Breton University.
Location